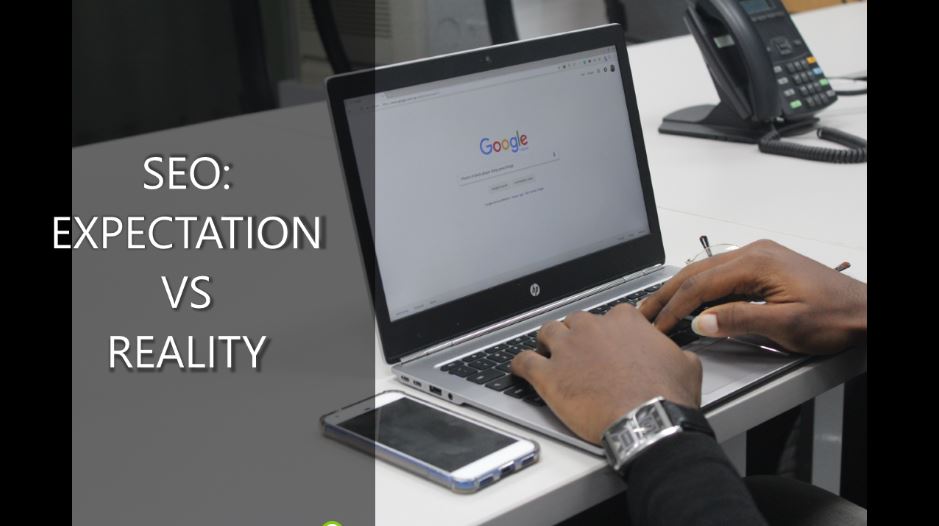 SEO Agency Promises vs Reality in Results
SEO Agency Promises vs Reality in results
Search Engine Optimization (SEO) is a way to keep your website or content at top of Google's search engine results page (SERPs), the agency you are going to hire for SEO basically optimises your published piece of content to make it worthy for Google's search engine and work consistently to keep your content at top of search results when an individual searches related to your business niche.
SEO involves various methods and strategies that are adapted to make your website rank high. SEO professionals promise you to keep your page at top of SERP but generally, they fail to do so because of incompetency and lack of experience.
When you are looking for an SEO agency to hire you must be very cautious about what they are promising and how they are going to do the work because reality is usually not what they promise.
There are SEO agencies who are going to approach you and guarantee top ranking, a list of leads of prospective customers and high traffic to your website. But the results in reality are far from these guarantees. There are some agencies that assure to refund the amount if they don't meet the expectations which is a way to mislead.
Before you are going to make a deal with an SEO agency you must be capable of differentiating between genuine service providers and fake service providers. This can be done if you have knowledge about how SEO functions in reality and what expertise is required for a good SEO. Getting deceived by an SEO agency that guarantees fake results can lose your confidence in SEO which is a very important part of your marketing campaigns.
FAKE PROMISES VS REALITY BY SEO AGENCY
In order to understand which agency is offering unrealistic results and which is offering genuine results, you must be aware of some common fake promises that are guaranteed by agencies, to get you on their client's list.
Duration of Results
Promise
There are some SEO professionals who are going to guarantee you quick results, such as within a week or few days they can drive your website to the top on Google's SERP. To get the deal done with you they even promise you a free trial to generate high traffic within a week. In such a short span of time the traffic which your site receives can never be organic, it can be done to just close the deal with you.
Reality
In reality, SEO takes time to show its power. If you are willing to get desired results through SEO then you must be very patient as it usually takes more than a month or months to even get to 1st page of Google's SERP. The reason behind this is that there are already top rankers whose content material is so strong that to get above or even close to them requires so much dedication and patience. If you want to get organic traffic, leads and top-ranking then being patient is the key to these accomplishments.
Guaranteed Results
Promise
Any SEO agency that is offering you 100% guaranteed results in all aspects of an SEO campaign then they are definitely not the one you should go for. They will try to deceive you by saying that they guarantee you leads for sales, optimise the content to rank at the top and provide consistent traffic to the marketing campaigns.
Reality
Trying their best is in the agency's hands but getting results as expected is not in their hands. SEO involves so many factors to give 100% results and putting all those factors in one place demands fine investment and time.
It is the Google Algorithms that have control over SEO and only they can decide whether you will get expected results or not. An SEO agency can just try their best to meet all the protocols of the Google Algorithm which is done by creating quality content, choosing top ranking keywords and appropriate backlink generation.
The competition to trend at the first page of SERP is very intense as top SEO experts develop strategies for organisations and only they are able to rank at the top. So if any agency promises you guaranteed results you must check their history cautiously. An agency that shows you a real picture of the SEO process and promises to do its best is the agency you should choose.
Traffic and Sales generation
Promise
SEO professionals promise to give you results like high engagement and conversions through campaigns. If they are not adequately adept and experienced this becomes a blunder instead of favourable results.
There are agencies that don't have enough resources and a team of adepts still assures conversion which is very easy to commit but tough as rock to crack. Generally, the startups make such promises due to the pressure of onboarding you as their client but they are not efficient and resourceful to do this.
Reality
SEO helps in the conversion of leads and generating traffic through campaigns but only highly efficient agencies are capable of getting this done. At the end of the month, there are chances that you get deals closed through SEO campaigns.
Possible only when the right audience is targeted in the right area. For this strong SEO strategies must be developed which is done on the basis of your business niche. If an SEO agency puts its efforts in the wrong direction then it's a waste of time and money both.
Staying at Top forever
Promise
One more promise that SEO agencies make to grab your attention is that your website will stay at the top of Google's SERP 'forever' once it reaches that place. They might try to comfort you just by saying that once you reach the top there is nothing to do further.
This is not true, because Google's algorithm keeps changing which keeps shuffling the pages up and down. Beware of the agency that promises you will always be at the first page or at the top without disclosing to you the actual efforts it takes.
Reality
Staying at the top forever is not a thing that exists in reality. Whether it's life or SEO there are always fluctuations of positions because there are plenty of other brands that are also doing their best to rank at the top. Also, SEO is not something that's done one time, one has to work on it consistently and follow the latest trends of Google's search engine.
Every year Google announces many changes and updates which impacts the SEO as well. In order to stay relevant and keep your page on track, the SEO strategies also need to be updated accordingly.
To keep your website at the top the SEO experts have to comply with every protocol and develop unique and fresh content so that when Google crawls your website your work still looks worthy to be at the top.
Let's get you across how SEO actually works
When you are looking to hire an SEO agency you aim to rank your website at the top or at least at the first page of search results in Google. This one purpose involves so many aspects that need to be analysed meticulously by SEO experts.
A quality SEO is the most significant factor in order to serve its purpose. The Search Engine crawls all the websites which are available related to a particular niche. If the crawler finds relevant keywords, quality content and backlinking of your website then it chooses to position your website on the first page or at the top of SERP.
Google is concerned about how it can display the best content to its audience because people trust Google and showing fake results will take that trust away from google. So Google takes it as their responsibility to show the best content to the audience and there are certain protocols and methods which need to be followed to become the best in the eyes of Google.
If your website is optimised as per the search engine demands then there are ample benefits you get such as, it helps expand your business reach to more potential customers, increases chances of getting more organic engagement on your website, improves your brand visibility and awareness, helps maintain credibility if search engine displays your website at the first page or at top.
Whom to pick?
After reading the above phrases you might be completely baffled about how to pick the right SEO agency for your business. The answer to this can never be specific. You must pick an SEO agency that is more transparent and involves you in every phase of the process.
At Digimark agency we keep our clients updated about the process. Our team consistently communicates with your team to keep things transparent, also we are open to taking your suggestions and ideas that can help your website rank faster.
Our vision and commitment to SEO services are realistic and we promise our clients what we are capable of.