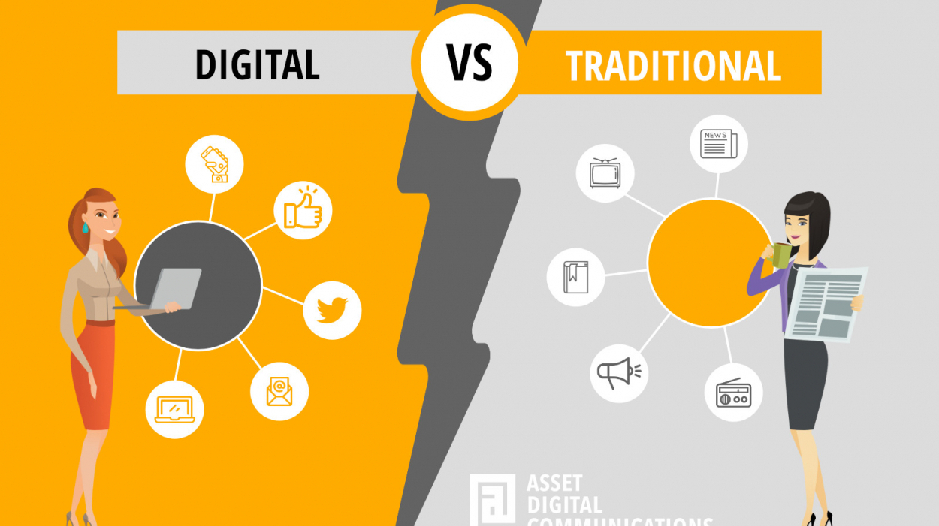 Why digital marketing is more effective than traditional marketing?
Expert analysis
We live in a digital world where every sec a new thing happens we are immediately updated about it. The digital marketing revolution has launched a new era of human empowerment both in terms of personal and professional. Digital is the need of the hour and as stated by Bill Gates, "The internet is becoming the town square for the global village of tomorrow". Marketing being an indispensable part for not only business development but also for augmenting brand awareness, it's important to analyze and understand which kind of marketing will have a long-lasting impact on the users. According to Philip Kotler, one of the preeminent marketing minds, a leading expert on strategic marketing and the forefather of social marketing, "Marketing is not the art of finding clever ways to dispose of what you make. It is the art of creating genuine customer value. It is the art of helping your customers become better off. The marketer's watchwords are quality, service, and value". However the raging debate between digital marketing and traditional marketing is a persistent one, reason being, though most of the marketing is done in the traditional way, digital marketing is steadily gaining an edge.

Traditional marketing
Traditional marketing is one of the conventional methods of advertising. It is used since the inception of advertising. It incorporates different forms of marketing starting from print, broadcast to direct mail marketing. This encompasses the following:
Newspaper
Television
Radio
Flyers, pamphlets, brochures
Billboards
Magazine ads
Digital Marketing
Traditional marketing includes all the 4Ps of marketing- Product, Price, Promotion and Place, while when it comes to digital marketing, primary focus is given on promotion wherein the product/service can get more exposure and response. Digital marketing encompasses all digital channels such as search engines, social media, email, and their websites to promote the brand/ service as well to generate sales. It aids in direct connection with the target audience.
Advantage of Digital Marketing over Traditional Marketing
Both traditional marketing and digital marketing has its own perks. With the advent of new age digital technologies, there is no doubt that internet marketing has set a new revolution altogether. Digital marketing has some clear winning benefits over traditional marketing and some of those are mentioned below.
1. Comparatively Low Cost
Advertising and marketing is a vital part of any business, but certainly it's a costly affair. While shelling out money might be comparatively easy for big businesses, for small businesses or start-up companies, it is quite difficult. However, marketing via digital platforms is more affordable as compared to the traditional method. With just a bare minimum investment, you can subscribe to an email marketing provider and send emails to thousands of customers. While on the other hand marketing through the newspaper, television and other such media ads cost a lot.
2. Higher Return On Investment
For any company or business, all that matters the most is the return on investment. Digital marketing offers a significant return on small investments. Be it email marketing or running advertising campaigns on social media platforms, it's always cost-effective when compared to traditional marketing techniques.
3. Real Time Result
In case of traditional marketing you actually can't track everything and do not get to see the results immediately. It takes a longer time to evaluate the precision of a campaign. Whereas in case of digital marketing it is easy to comprehend the success rate of the digital campaign. You can know whether a campaign is running successfully or not instantly. It is also easy to measure, for instance the number of views, the conversion rate, the engagement rate and so on.
4. Brand Development
Every small or big company needs branding to some extent, even in case of lead generation, it is very important for the company to be visible and available for the target audience. It is mostly through a brand awareness campaign that a company reaches its visibility. However when the question arises about which particular type of marketing is more effective, digital or traditional marketing, digital marketing takes the winning position. A well-developed website, a high quality blog and useful articles, a social media channel, are some of the ways by which a business can create brand awareness. Unlike traditional marketing, you can consistently build the image of your company and whenever you want.
5. More Interactive
When we talk about traditional marketing, we are reminded of methods that are informative but not interactive in true sense. After reading a newspaper you can at the most discuss that amongst people or just keep it to yourself. Even when you see any billboard, you react to it or max to max take an initiative if you are one of the target audiences. You can not only interact with your targeted audience in the real time, but also make prompt and fruitful steps based on their feedbacks.
6. Target-specific
In case of traditional form of marketing device, it is not always possible to cover a certain area or population or just focus on one part of the population and ignore the rest. As opposed to this, digital marketing has the ability to reach out to the whole world or you can even set your specific target audience accordingly. In case of digital marketing, you can retarget the audience based on their likings and preferences. Even a person has a choice to see an ad or ignore, participate in a social media discussion group or read or ignore a marketing email.
7. Sharable
As digital marketing uses internet marketing, it is easy for anyone to share the ads or the articles across different platforms and with multiple followers. This in turn enhances the visibility of the service/product or the company, which again aids in increasing the sales and create better brand awareness.
8. Trackable
With digital marketing accurately measuring your marketing efforts, tracking each penny that you spend, it becomes very easy and quick to gauge the success rate of an ad campaign. You can instantly see which strategy is working and which isn't through Google Analytics, inbound traffic, conversion rate, interested audience, bounce rate and profit.
9. Globally Accessible
The world is now said to have turned into a global village. There has been a paradigm shift with digitalization. Now anyone, sitting in any corner of the world can see any ad campaign whenever they want. Digitalization is bringing everyone closer and enhancing a more integral and connected world than ever before.
Steve Irvine, Vice President of Global Partnerships for Facebook had some insights on "Personalized Marketing at Scale". He stated in a conference "When marketing via mobile, you are competing with family and friends. So be smart and targeted. Facebook is getting 4 billion video views per day! The average person checks Facebook on their phone 14 times a day. On Facebook you are competing with everything, so targeting is the key! Smartphone is the driver of digital today."
Nevertheless the key to staying relevant and keeping customers in this highly competitive world is to ensure a continuous engagement with the target audience. We are constantly progressing towards a digital world with each passing day and with the above stated facts it's almost clear that digital marketing has a profound impact when it comes to branding or generating revenue. According to Philip Kotler, "it will be foolish for any company to go overboard on digital media. Companies should use a mix of social and traditional media to promote products. They can experiment with the amount of digital media that is optimal but it is unlikely that companies will only use digital marketing. Companies often need a 30-second commercial that gives a big picture of the brand and then use social media on the back of it. Social and traditional media can reinforce each other and work together."