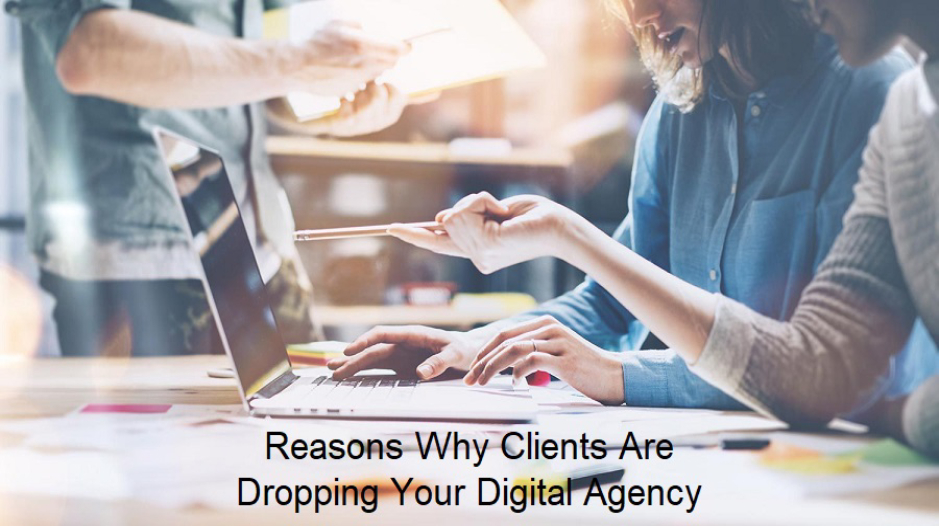 10 reasons why digital marketing agencies lose their clients?
10 reasons why digital marketing agencies lose their clients?
They say "The First impression is the last impression so make sure it's satisfactory".
However, when it comes to digital marketing if a client is impressed on the very first day or month doesn't mean this will last longer if you are not being unique and surprising every next time.
The term Digital marketing consists of different types of marketing campaigns performed through online platforms. All activities here go in one direction that is "Keeping a client satisfied by making their brand/business known and trending". These days Digital marketing agencies are focusing much on winning new clients on the go and neglecting the efforts applied for retaining existing clients which leads to a high flow of clients coming and going.
Agencies tend to invest most of the time and resources for bringing new clients, all the focus is given to hiring and training the marketing team who can bring conversions but they all forget the fact that the foundation of this agency is to put all these similar efforts for their clients, not for their company. It is important to not let go of existing clients because an agency gains the highest proportion of profit from its ongoing clients. Especially those clients who are paying a sound amount of money and expecting high-quality work.
If you own a Digital marketing agency or are planning to start one then stop for a few minutes and read the reasons below why your Digital marketing agency may lose clients.
10 Reasons Why Digital Marketing Agencies Lose Their Clients
1- Setting wrong expectations
The most significant reason for losing clients in a Digital marketing agency is setting wrong and impractical expectations. I have seen many agencies where a sales executive promises the client that they are capable of delivering all segments involved in digital marketing even if they specialize in only one segment.
Also, they make promises that they can cover all platforms of digital marketing and for that rates are very minimal.
Sometimes campaigns need costs to be incurred in order to get favorable results but just to meet the sales targets agents make all such lame promises and ultimately when these expectations or a part of expectations couldn't be met due to inefficiency of agency, clients run away for better options.
Resolution- Always remember to promise clients what your agency actually offers, the cost that is needed to be incurred and doesn't promise them guaranteed results, always give them a real picture of digital marketing. If you are being honest with them then they are more likely to be retained for the long term.
2- Employees switches job or starts their own agency
An agency invests its time and energy to train an employee and make them adept. A time comes when the employees are in full control of the client's account, there are possibilities of building a strong relationship between a client and employee. This situation is favourable for an agency as long as the employee is working in your agency only.
But if by any chance your employee plans to start his/her own digital marketing agency or switches a job to another agency, in that case along with that employee your sound and long term clients can also go away because of the connection they had with your agency was because of that one employee.
Resolution- So always keep in mind to not give full control of a few clients to one personnel, there must be a distribution of tasks of the same clients and make sure that you as an entrepreneur have built a strong relationship with your clients and clients feel connected to your particular brand. In this case, no matter how close an employee is working with your clients, your services shall not allow them to run away after someone who is new even if they are being offered services at lower rates.
3- Changes in the marketing strategy of the client
When we talk about digital marketing strategies then there are so many segments. There may be a possibility that your agency specialises in social media promotion on a few social media platforms. And Clients may want to expand or switch to other social media platforms that your agency is not specialised in. 
Resolution- Make sure to develop adjustable digital marketing services so that there is no chance of clients seeking other options.
4- Changes in guidelines
There are also chances of losing clients if you are changing the terms and conditions after delivering one or two projects, or completing the first task. Often it is seen that in order to crack the deal agencies are ready to render services at minimal rates or promise to complete tasks in very less time. And agencies try their best to meet the guidelines for new clients and keep their work at priority.
Later once the client is satisfied with the services and willing to continue for longer, the agencies start focusing on another batch of new clients and are not able to meet the set guidelines of previous clients. Also, many agencies start asking clients for more costing charges which lead clients to lose interest and seek another option.
Resolution- If you are willing to maintain your clientele for longer-term then make sure that there are no changes in guidelines of work for at least a few years unless some unforeseen situation arises. Even if there are cases where you are making changes in the work and extra cost needs to be incurred, it is your responsibility to inform and convince the client for the same. That's how only you can stop your clients from seeking other best options in the market.
5- Poor execution of services
Digital marketing agencies don't pay attention to delivering work as promised. Once the client has agreed to get services from a specific agency the agency's team either is not capable enough or there is no concerned person who can handle the expectations of clients.
Resolution- Keep someone in charge of all the activities that have to be done and how it has to be done. Also, that person must be responsible to check if the finished work is up to the standards or not.
6- Not worthy outcomes
We all know that digital marketing is a process that involves time and patience. The digital marketing goal is to promote the client's brand or business through various online marketing strategies. Apart from paid campaigns all other activities done in digital marketing don't promise a conversion or sales of a client's product or service.
However many agencies tell clients that they will help clients' businesses to raise conversion and sale of their products or services which is not a realistic promise. Later clients start thinking that if the sales are not increasing then what's the point of incurring so much money.
Resolution- To stop clients from having such opinions about digital marketing it is important that an agency is telling real processes and outcomes. Promise those results to clients which are visible and achievable through digital marketing.
7- No Education to client
A big flaw in Digital marketing agencies these days is that they don't consider and pay attention to educating clients properly about the tasks that are going to be carried out.
For example, a digital marketing agency is hired for the SEO services and the client is not even informed about the basics of SEO and the client makes a mindset that his/her website will be on the top because they hired an agency for that.
Agencies ignore to educate clients about the real picture of SEO, how this process works and it may take decades to even come to the first page of Google's SERP.
Resolution- However on the other hand if a client is being informed about this process then they will be very patient to see the results which will help your agency to retain clients for a long time.
8- Expansion of client's business
There are circumstances in the start when a client is ready to work with a small or medium digital marketing agency. However, even if you are doing your best there are chances that the business of your client gets expanded or it is turned into a big or global company which results in switching to a big digital marketing agency.
Resolution- Make sure to always enhance your digital marketing agency services and keep spreading your area of work. 
9- No more interested in digital marketing
During the lockdown all over the world, many industries which were using offline marketing services for promoting their brand switched to digital marketing. And post lockdown there were many companies that again started using offline marketing methods and are no more interested in digital marketing.
Resolution- One thing that you can do to retain such clients is to guide and explain to them that digital marketing can be valuable for their industries as well.
10- Failure in a communication system
If you are offering marketing services digitally then it means you are not interacting with your clients face to face which might give a chance to clients to switch or try another option. Also, there are many matters where the involvement of the client or their team is important but if an effective online communication system is not in place then it is difficult to communicate properly with the concerned person which creates so much confusion and delay in work.
Agencies don't actively communicate or have meetings with clients often because of which clients have no idea what's going on and how things are done.
Resolution- If you want that clients don't give a second thought to subscribing to another agency then always try to keep clients or the concerned team member in the loop and schedule weekly meetings to unclear all doubts and how better things can be done.