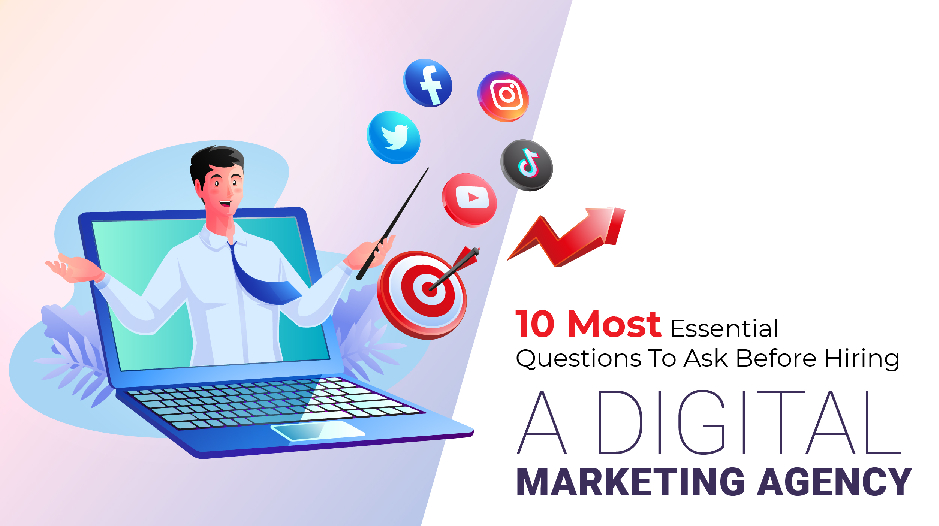 10 Most important questions to ask before hiring a Digital Marketing Agency
Digitalization is taking over the world today and though it is believed to be still in the nascent stage, it is influencing every aspect of our lives affirmatively. We are constantly on the run for a better and easy life. This urge to always be in the limelight has triggered the thought in the minds of people about the importance of digital marketing. Any small or big business wants to opt for it just to have their presence in the market and to reach out to their target audience in an organized way. But just jumping into a conclusion that the best thing for your business would be to hire a digital marketing consultant is certainly not the ultimate decision that you need to make. The most important question that lies here is how you choose the best agency for your company. How exactly do you choose who to hire?
There are some questions that you should ask potential consultants that will help make sure you're getting the best value for your money. Read on for ten questions to ask a digital marketing consultant.
1. WHO ARE SOME OF THEIR PREVIOUS CLIENTS?
First and foremost it is very important to understand the kind of clients that the agency caters to, whether it is B2B or B2C. On the basis of your requirement, it is important to check out the work done by the agency for their clients. It doesn't necessarily mean that agencies are not versatile, but proven results can help you strongly believe in their capabilities. Also make a comparative analysis amongst agencies. If any agency exclusively caters to one particular industry they may have conflicts of interest with your competitors, so that's better to avoid. Again if they have recently worked in your industry, it's an added advantage.
2. WHAT ARE THEIR OFFREINGS AND SERVICES?
One of the most crucial deciding factors is the capability and the versatility of an agency. Marketing doesn't work in the air, rather digital marketing is completely based on pre-decided strategies, nexus of planning. Make sure that the agency is equipped with all the required services such as web designing, web development, website hosting, search engine optimization, content marketing, video marketing, social media strategy, branding, Adwords, to name a few. Sure, every agency is better at some things than others. In order for your marketing efforts to be well-rounded and potent, your agency should have a bouquet of proficiencies at its disposal.
3. HOW EFFICIENT ARE THEY IN SETTING GOALS?
Marketing approach varies from company to company. It is very important to understand the need of the hour. What your company require, is it just branding or lead generation. A digital marketing agency is considered to be the strategic partners. Their definition of marketing is extensive and should aim to provide an all-encompassing solution. They should have the ability to think through and tackle business quandaries beyond generating leads and converting customers. The agency should act as the guiding light for you. It should pave the way accordingly. Agencies have a tendency to mis-sell at times. Before investing on any agency, it's better to understand the end goal clearly. See if the agency is guiding you according to what you need and not pushing you to invest money on unnecessary things.
4. WHAT'S THE BUDGET?
It's like an obvious question when it comes to business. The return on investment is one of the major concerns of any company small or big company. So budget is one of the factors that need attention. You're certainly not going to enter into an agreement without determining the cost first. Asking about the budget can aid in understanding their quality standards as well, for instance an agency who charges extravagantly can be scamming you or an agency with low pricings might not provide quality service. You should hire a digital marketing consultant who charges a considerable price. That way you can deduce that they are good are good at what they do. Also it is advisable to start with less investment so that you don't fall flat on your face if the agency doesn't work well for you.
5. HOW EFFICIENT ARE THE TEAM MEMBERS AND WHO WILL BE THE POINT OF CONTACT?
A company is as good as its people. When you hire a marketing agency, it's like gaining new teammates. It is therefore important to know how proficient they are. Make sure that they are approachable and have the capability to address the problems in hand efficiently. What is your gut instinct about them after visiting their website or meeting them in person? Meet the person who will be your point of contact or the people who will be managing your projects. Try and interact with them extensively about their opinion on the project or the campaign, see if they sound convincing enough.
6. WHAT PROJECT MANAGEMENT TOOLS DO THEY USE?
Now that you are aware of what they do and what are their offerings, next step is to know how. The kind of tools that they will be using, will that get you enough reach, how will that help you grow your business. For example different software tools help in different functionality like managing projects, tracking the reach, making reports and so on. Not all tools and software are created equally. For example, at Figmints, we use Basecamp for project management and file sharing. It streamlines the communication process between the team and clients – which is important because you want your agency to be using your budget for actual marketing work and not 50% project management.
7. HOW WELL CAN THEY OPTIMIZE CONTENT?
A lot depends on the content and how we optimize it to reach our targeted goals. While hiring a digital marketing agency, you expect them to improve your content so that it can enhance your presence and visibility. It's good to be inquisitive at times. Ask for a full proof plan and don't just rely on assumption. A good marketing consultant should know how to optimize your existing content, if you need to create new content, and how all of that will work together.
8. WHAT'S THE STRATEGY TO LINK BUILDING?
Search Engine Optimization is one of the primary ways to rank first in the search page. Therefore link building is one of the most important aspects of SEO. If you don't have any links leading back to your website, improving your rankings in Google search will be an arduous task. Now the question arises, how they are proposing to do that. Check with their previous SEO related works to analyze how good they are in rank building.
9. ARE THEY CONVINCING ENOUGH OR JUST FAKING?
This might sound a little odd, but it's really needed to comprehend and evaluate whatever they say. They might promise you anything and everything but you need to have a basic understanding to judge them. Guaranteeing a top rank in a limited period is not possible. If you are assured of a top ranking it might just be a false hope being given to you. Better not to fall for such traps. It's good if the agency is honest to you and gives you assurance of delivering or doing the best that is possible.
10. HOW WILL YOU ASSESS YOUR CAMPAIGNS?
The work that they plan for you is that fetching the result you desire? It is very important to analyze the growth and the progress of whatever has been planned. The agency you connect with should provide a precise progress report on a monthly basis so that you are updated about the success or failure of the campaign. This will help you to decide whether to continue with the plan or not and in a way help you to invest your money accordingly.
However all said and done the right person for the job will be okay with eventually working themselves out of a job. No matter which agency you connect with, someone at your end will have to take certain responsibilities eventually and have the skills to make the agency work according to the needs of the company. You should know how to get a job done and ensure that the agency aids in creating long-lasting results.
Now that you know the basic questions before hiring any digital agency, get started now!